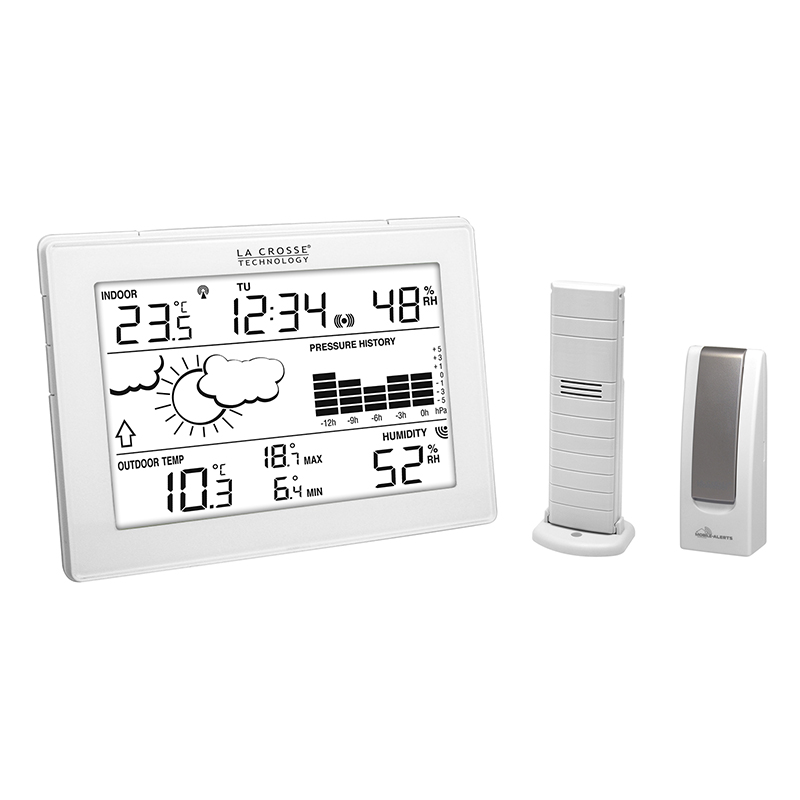 Connected objects La Crosse Technology MA10006 WHITE
MA10006-WHI
From wireless sensors with Internet connection via gateway - MOBILE ALERTS worldwide monitors all informations from your home via your smartphone. Via push notification you will be alerted immediately to any fault status. So you can avoid major damage through specific action. MOBILE ALERTS Gateway can be extended with many other wireless sensors, including MA10006.
Connected weather station with gateway
Features
Low batteries indicators
Wall mounting or free standing
PC connection
The Gateway transmit indoor/outdoor temperature and humidity data to your phone.
Transmission to Gateway every 6 minutes.
New Appversion will include an interactive 7 days Graphic in landscape mode.
Atmospheric pressure
Pressure history for the last 12 hours
Transmission
868 MHz frequency
100 meters in open range
Outdoor humidity
RH %
From 1 % to 99 %
Precision: 1%
Accuracy : +/- 5 %
2 minutes measuring period
Outdoor temperature
°C
From – 39.9 °C to + 59.9 °C
Precision: 0.1 °C
Min/Max
Measuring period : every 2 minutes
Indoor humidity
RH %
From 20 % to 95 %
Precision: 1%
Accuracy : +/- 5 %
2 minutes measuring period
Indoor temperature
°C
From - 9.9 °C to + 59.9 °C
Precision : 0.1 °C
Min/Max
2 minutes measuring period
Forecast
Barometer with icon display (sunny,cloudy,rainy)
Trend arrow
Hour Date
Radio-controlled DCF-77
DCF-77 ON/OFF
24 hour time format
Time zone : -2 to +5
Calendar
Alarm
Other colors
connected-objects/ma10006-black.html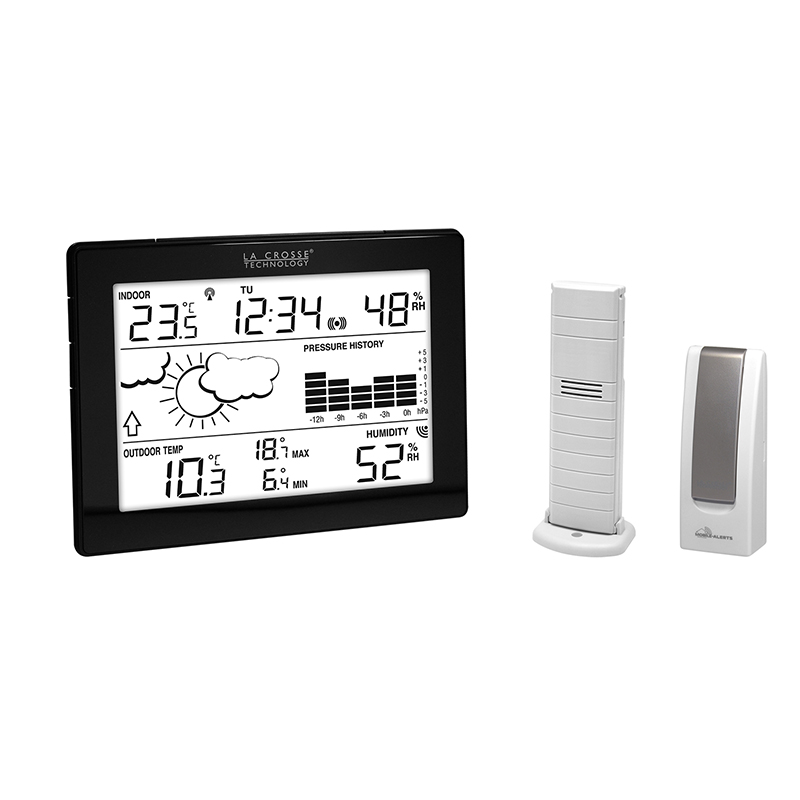 MA10006 BLACK